Turkey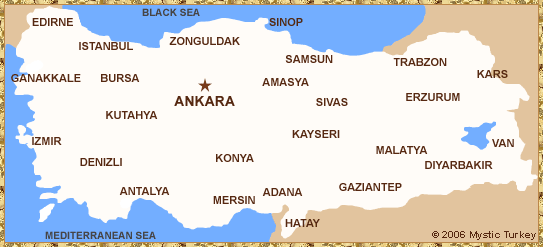 POPULATION AND ADMINISTRATION
Population: 1927: 13.6 million; 1940: 17.8 million; 1950: 20.9 million; 1960: 27.7 million; 1970: 35.6 million; 1975: 40.1 million; 1987: 52 million; 1990: 57 million; 1994: 60.8 million;1997:62.6 million;2000:67.8 million; 2006:74,3 million

Major Cities: Istanbul: 14.4 million, Ankara: 4.5 million, Izmir 3.9 million, Bursa: 2.3 million, Adana: 1.9 million, Antalya: 1.8 million.

Official Language: Turkish

Religions: Muslim 98%;Orthodox, Gregorian, Jewish, Catholic,Protestant and other Christian sects: 2%. Greek Orthodox and Armenian patriarchates are located in Istanbul.

Government Type: Republican Parliamentary Democracy.

Administrative Divisions: 81 Provinces.

Capital: Ankara.

Currency: Turkish Lira.

Flag: Red with a vertical white crescent and a five-pointed star .

Proclamation of Republic: 29th of October,1923
GEOGRAPHY & RESOURCES
Total Area: 779,452 square km. ;Thrace: 23,764 square km. (Europe); Anatolia: 755,688 square km. (Asia); Max. length; 1,565 km. ;Average width: 550km.
Coastline: 8,333 km. Aegean: 2,805 km. Mediterranean: 1,577 km. Black Sea: 1,695 km. Marmara: 927 km.
Frontiers: Total: 2,753 km. Borders with Syria: 877 km, Former USSR (Georgia, Armenia, Nakhichevan Autonomous Region): 610 km, Iran: 454 km, Iraq: 331 km, Bulgaria 269 km, and Greece: 212 km.
Lakes: 8,933 square km. In order of size: Van, Tuz Golu (Salt Lake), Beysehir, Egirdir, Aksehir, Iznik, Burdur, Manyas, Acigol, Ulubat (Apolyont).
Mountains: Mt. Ararat: 5,165 m., Kackar; 3,932 m., Erciyes; 3,917 m., B Hasan; 3,268 m., Nemrut: 2,828 m., Uludag (Mt. Olympus): 2,543, Average altitude; 1,131 m. (80% of land above 500 m. altitude)
Rivers: Kizilirmak(Halys): 1,355 km;Firat (Euphrates): 971 km. in Turkey; Sakarya (Sangarios): 824 km.; Buyuk Menderes (Meander): 584 km. ;Murat: 722 km. Seyhan(Sarus): 560 km;Aras:548 km in Turkey;Dicle (Tigris): 523 km. in Turkey; Yesilirmak 519 km.; Ceyhan: 509 km.; Porsuk: 488 km. ;Coruh: 442 km.; Gediz: 401 km.
Islands: Gokceada, Bozcaada, Uzunada, Alibey (Aegean Sea), Marmara Avsa Isles: Ekinik, Koyun, Pasalimani, Princes' Isles: Buyukada, Heybeliada, Burgaz, Kinali, Sedef (Marmara Sea), Karaada, Salih, Kekova (Mediterranean)
Straits: Bosphorus (links Black Sea to Marmara Sea-29,9 km), Dardanelles (links Marmara Sea to Aegean Sea-62 km)
Regions: Seven geographical and administrative regions: Marmara, Aegean, Mediterranean, Black Sea, Central Anatolian, Eastern and Southeastern.
Climate: Three climate zones: Mediterranean (hot and dry summers, mild and wet winters), continental (hot and dry summers, cold and harsh winter), Black Sea: (temperate and wet all year long).
Natural Resources: Oil, coal, iron ore, copper, uranium, manganese, antimony, chromium, mercury, borate, sulphur, zinc, borax, meerschaum,lignite,lead and phosphate.
Land: 30% arable; 26% forest & woodland;12% meadows&pastures; 4% permanent crops; 28% other.
All Rights Reserved,2007 Mystic Turkey